Book:
Klaus Biesenbach, Alex Ross, Nicola Dibben, Sjon «Bjork: Archives»
Bjork is a contemporary icon whose contributions to music, video, film, fashion and art have influenced a generation worldwide. Here, now, is the ultimate celebration of this multimillion-selling superstar. Designed by top design studio M/M (Paris) as a slipcased world of wonders, this publication which accompanies springs exhibition on Bjork at The Museum of Modern Art is composed of six parts: four booklets, a paperback and a poster. Each booklet contains illustrated texts by, respectively, Klaus Biesenbach, Alex Ross, Nicola Dibben and Timothy Morton, while the poster features artwork of Bjorks albums and singles. The main book focuses on her seven major albums Debut, Post, Homogenic, Vespertine, Medulla, Volta and Biophilia and the personas created for each one. Poetic texts by longtime collaborator, Icelandic author Sjon, are accompanied by shots of Bjork performing live; multiple stills from music videos made by directors including Michel Gondry, Chris Cunningham and Spike...

Издательство: "Thames and Hudson Limited" (2015)

Формат: 245x310, 192 стр.

ISBN: 978-0-500-29194-8

Купить за 4899 руб на Озоне
Klaus Biesenbach
Klaus Biesenbach (* 1966 in Kürten, Bergisches Land) ist ein deutscher Kunsthistoriker, Kulturmanager und Direktor der New Yorker Kunsthalle MoMA PS1 (Stadtteil Queens), die zum Museum of Modern Art New York gehört.
Leben
Biesenbach studierte zunächst Medizin, doch brach er sein Studium ab. Als er während eines Aufenthalts in New York Fernsehbilder vom Fall der Berliner Mauer sah (1989), beschloss er nach Berlin zu ziehen. Er mietete dort mit Kommilitonen eine ehemalige Margarine-Fabrik in Berlin-Mitte, nannte sie "Kunst-Werke" und bot dort in kürzester Zeit ein viel beachtetes internationales Programm mit Ausstellungen und Gast-Ateliers für Künstler und Clubs.
Seit 1996 organisierte er parallel Ausstellungen am MoMA PS1, einer Institution für zeitgenössische Kunst in einer früheren Schule in Queens (Stadtteil von New York City), die 1999 dem "Museum of Modern Art" angegliedert wurde. Im Jahr 1997 gastierte er auf der "Documenta X" mit "Hybrid Workspace". 1998 richteten die "Kunst-Werke" unter Biesenbachs Leitung die erste Berlin-Biennale aus.
Biesenbach war u.a. als Kurator der Shanghai Biennale tätig und 1997 jüngstes Mitglied der internationalen Jury für die Venedig-Biennale. Seit 2004 ist er Chefkurator einer für ihn neu gegründeten Abteilung für Medienkunst im "Museum of Modern Art".
Weblinks
Источник: Klaus Biesenbach
Alex Ross
Infobox Comics creator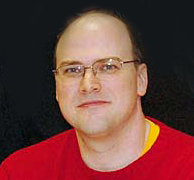 imagesize =
caption = Alex Ross
birthname = Nelson Alexander Ross
birthdate = birth date and age|1970|01|22
location = Portland, Oregon
deathdate =
deathplace =
nationality = American
area = Painter, Illustrator
alias =
notable works =
awards = Will Eisner Award (1997)
National Cartoonists Society Comic Book Award (1998)
Nelson Alexander "Alex" Ross (born January 22, 1970) is an American comic book painter, illustrator and plotter, acclaimed for the photorealism of his work. Ross is known for his love of the vintage looks of classic characters and the more mythic elements of the superheroes.
From the late 1990s, Ross has done much work for the industry's two largest and most historically important publishing houses, Marvel and DC Comics, but Ross is also the co-creator of "Astro City", an original series that explores superhero mythology.
Although he is a prominent figure for both DC and Marvel, he is better known as a DC artist, as much of his work (such as "Kingdom Come") was created for DC. Due to the time and effort required to render his complex paintings, he is often hired to craft covers rather than interiors. Almost all of his Marvel work since 1994 has been as a plotter or cover artist.
Biography
Ross was born in Portland, Oregon, but grew up in Lubbock, Texas. His mother, Lynette C. Ross, was a commercial artist best known for her paper doll books. His father is a minister. From childhood, he wanted to work in comics. He was particularly influenced by George Pérez, Bernie Wrightson and Neal Adams. The telling facial expressions and realism of Adams' work can be seen in much of Ross'. He was also interested in mainstream American painters such as Andrew Loomis, J. C. Leyendecker and especially Norman Rockwell. He was even influenced by his favorite band, Queen, specifically the cover to their second album, "Queen II", the composition of which, (black background, grouped figures with faces partially shadowed,) would go on to be used many times in Ross' work.
In 1987, Ross moved to Chicago to attend the American Academy of Art, where his mother had studied. His first published work was the five issue series, "" (1990), penned by Ron Fortier. Ross created all of the art, from pencils through coloring for the series. He performed similar work on a variety of titles over the next few years. In 1993, he completed his first painted superhero assignment, the cover of a Superman novel: .
During this time, Ross met writer Kurt Busiek and the two began submitting proposals for series that would feature paintings as their internal art, an unexplored idea at the time. Marvel agreed to a project that would tell much of the history of the Marvel Universe from the perspective of an ordinary person. That limited series, "Marvels," was released in 1994, and chronicled the life of a photojournalist, as he reacted to living in a world of superheroes and villains. Many fans were astonished by Ross' uncannily realistic portrayals of Spider-Man, Captain America, The Fantastic Four, The X-Men, Silver Surfer, The Human Torch and others.
Busiek, Ross, and penciller Brent Anderson went on to create "Astro City," first published by Image Comics in 1995 and later by Homage Comics. The series features an original superhero world and continues the theme of "Marvels," exploring how ordinary people, and superheroes and villains too, react to a world where the fantastic is commonplace. Ross paints the covers and helps set the costumes and the general look and feel for the series, which has been published sporadically in recent years due to Busiek's health problems.
In 1996, Ross teamed up with writer Mark Waid for the DC Comics limited series "Kingdom Come," which unveils a possible future for the DC universe, in which Superman and several other classic superheroes return from retirement to tame a generation of brutal anti-heroes. Ross redesigned several important superheroes, such as Superman, Batman, Wonder Woman, Green Lantern, The Flash, Hawkman and Captain Marvel for the series. He also hid numerous visual references in his images, such as recognizable graffiti, objects and posters, and modeled Rev. Norman McCay, a minister who The Spectre appoints with judging who is responsible for a prophesized tragedy, on his own father, Clark Ross.
"Kingdom Come" helped cement Ross' place as a comic book industry superstar. He followed it with the risky "Uncle Sam," a non-superhero work. A project of DC's Vertigo line, it was an experimental work that examined the dark side of American history. While not a sales success, the mini-series garnered favorable reviews from comic fans.
In the early 2000s, with writer Jim Krueger, Ross plotted and designed characters for a trilogy of Marvel limited series, "Earth X," "Universe X," and "Paradise X," which combined dozens of Marvel characters from various time periods in one galaxy-spanning epic. Alex Ross's decision to not paint the internal art hurt the series.
Ross has also been the subject of a minor controversy over his refusal to draw certain characters (most notably Kyle Rayner, who at the time of Ross' refusal was the Green Lantern).
Between 1998 and 2003, writer Paul Dini and Ross produced annual tabloid-sized editions celebrating the 60th anniversaries of DC Comics' Superman ('Peace on Earth'), Batman ('War on Crime'), Shazam ('Power of Hope'), and Wonder Woman ('Spirit of Truth'), as well as two specials featuring the Justice League, 'Secret Origins' and 'Liberty and Justice'.
In 2001, Ross won acclaim for his work on special comic books benefiting the families of those killed in the September 11, 2001 attacks, including his portraits of paramedics, police and firefighters. He has also designed much DC merchandise, including posters, dinner plates, and statues.
In 2004, DC compiled the coffee table book "Mythology: The DC Comics Art of Alex Ross", written and designed by Chip Kidd. In late 2005, a paperback version of the book was published to include new artwork by Ross, including sketches for his "Justice" mini-series.
Also in 2004, Ross designed paintings for the opening credits of the film "Spider-Man 2". The paintings presented key elements from the first film, including a rendition of the classic upside-down kiss between Tobey Maguire and Kirsten Dunst.
In August 2005, Ross reunited with writer Jim Kreuger and penciller Doug Braithwaite to begin the epic 12-issue, bi-monthly limited series "Justice" for DC Comics. The series focuses on the enemies of the Justice League of America banding together to defeat the League.
After "Justice" he started on projects showcasing his love for Golden Age characters: "Project Superpowers" with Jim Krueger for Dynamite Entertainment. [ [http://www.comicbookresources.com/news/newsitem.cgi?id=11188 Ross! Krueger! Dynamite! "SUPERPOWERS!"] , July 18 2007, Comic Book Resources] and, starting in 2008, Ross launched "Avengers/Invaders" [comicbookdb|type=title|id=18419|title="Avengers/Invaders"] featuring Marvel characters but published by Dynamite Entertainment. The story will pit World War II versions of Captain America, Namor, and other classic war characters against the modern Avengers groups. He has not stated what will happen in the series, but he has stated the recent death of Captain America has improved the story, since it was conceived a year before his death. [ [http://uk.comics.ign.com/articles/812/812375p1.html Interview: Alex Ross Returns to Marvel] , IGN, August 11, 2007] [ [http://www.comicbookresources.com/?page=article&id=11195 Ross' Return = "Avengers/Invaders"] , Comic Book Resources, August 14, 2007] [ [http://forum.newsarama.com/showthread.php?t=125258 Alex Ross Talks Avengers/Invaders] , Newsarama, August 14, 2007] He also collaborates on DC's Justice Society of America. Ross is also set to draw the covers of Dynamite Entertainment's comic book series featuring "The Phantom". He will also redesign the hero's costume.
During an interview in "Wizard Magazine" #167, Ross stated that his favorite Flash is Barry Allen, as he says that Barry Allen's character was "screwed".
Toys
DC Direct (the exclusive collectibles division of DC Comics) has produced 3 waves of action figures from the comics book Kingdom Come based on Alex Ross' artwork. The first wave of figures included Superman, Wonder Woman, Green Lantern and Hawkman. The second wave included Batman, Red Robin, Captain Marvel and Kid Flash. The last wave included Magog, Flash, Armored Wonder Woman and Deadman. An exclusive figure of Red Arrow was released through ToyFare magazine. DC Direct also released several other characters through their Elseworlds toylines. These figures included The Spectre, Norman McCay, Jade, Nightstar, Aquaman and Blue Beetle. Ross also designed the costume the current incarnation of Batwoman wears; this character has been released in action-figure form by DC Direct as part of its "52" line of toys.
DC Direct has also released a line of action figures for the comic book Justice based again on Alex Ross' artwork:
*Series 1: Bizzaro, Sinestro, Cheetah, Flash, Superman, Superman (Variant)
*Series 2: Aquaman, Batman, Black Canary, Black Manta, Parasite
*Series 3: Green Lantern, Joker, Plastic Man, Poison Ivy, Wonder Woman
*Series 4: Black Adam, Hawkman, Shazam!, Solomon Grundy, Zatanna
*Series 5: Brainiac, Green Arrow, Lex Luthor, Martian Manhunter, Martian Manhunter (Translucent), Red Tornado.
*Series 6: Batman Armored, Green Lantern Armored, Hawkgirl, Scarecrow.
*Series 7: Aquaman Armored, Gorilla Grodd, Green Lantern John Stewart, Superman Armored
*Series 8: Batgirl, Captain Cold, Supergirl, Toyman
Other media
*Alex Ross drew the cover picture on the Anthrax albums "We've Come for You All" and "Music of Mass Destruction".
*Had a notable feud with filmmaker Kevin Smith because Smith's film "Mallrats" seemed to imply that Stan Lee was the sole creator of the Marvel Universe. Ross stated that he feels that Jack Kirby should have half the credit. This feud was referenced in the DVD for "Mallrats".
*Had designed a series of costumes for the 2002 film "Spider-Man", but director Sam Raimi instead chose not to use Ross' outfits. Rather, many of the costumes were redesigned prior to filming. In the film's video game counterpart, as an easter egg, it is possible to unlock a playable version of Ross' Spider-Man design. When using this unlockable, the Green Goblin will also feature one of Ross' unused character outfits. As such, Ross was commissioned to do a series of drawings for the opening credits of "Spider-Man 2", which recapped the major events from the first film.
*Painted a picture of Ace and Gary, The Ambiguously Gay Duo in his trademark form.
Awards
His numerous awards include a 1997 Will Eisner Award for the limited series "Kingdom Come" (with Mark Waid) and a 1998 National Cartoonists Society Comic Book Award for "Superman: Peace on Earth".
Notes
References
*comicbookdb|type=creator|id=292|title=Alex Ross
Audio Interviews
* [http://www.aroundcomics.com/?p=697/ Around Comics] Interview on Around Comics 01/01/08
External links
*official|http://www.alexrossart.com
* [http://marvel.com/catalog/?writer=Alex%20Ross Alex Ross at Marvel.com]
* [http://www.comicbookpros.com/artforsale.asp?art=Alex%20Ross Comic Book Pros] , represents Alex Ross
* [http://www.alexrossauction.com/video.php A video showcasing Alex Ross at work on the cover to JLA: Liberty and Justice]
Interviews
* [http://www.alexrossart.com/news/arfiles03.html Interview at Alex Ross Art (1997)]
* [http://www.twomorrows.com/kirby/articles/27ross.html Interview at The Jack Kirby Collector (1999)]
* [http://filmforce.ign.com/articles/455/455979p1.html Interview at FilmForce (2003)]
Источник: Alex Ross
Sjón
Sjón is the pen name of Sigurjón Birgir Sigurðsson (born August 27, 1962). His pen name is formed from his given name (Sigurjón), and means 'Sight'.
Sjón is an Icelandic author and a poet. He was awarded the The Nordic Council's Literature Prize in 2005 for the novel "Skugga-Baldur" ('The Blue Fox'), but is perhaps best known in the English speaking world for writing some of Björk's lyrics. Lyrics Sjón has written for Björk are for the songs "Isobel", its sequel "Bachelorette", "Oceania", written especially for the 2004 Summer Olympics and "Wanderlust". In 2001 he was nominated for an Academy Award (Oscars), alongside his co-writers Lars von Trier and Björk, for the song "I've Seen it All" from the film "Dancer in the Dark".
He has also appeared as guest vocalist on a rare Sugarcubes 12" single "Luftgitar" (air guitar) in 1987 using the name Johnny Triumph; this was accompanied by a music video of Sjón playing an invisible guitar with Björk and Einar Örn Benediktsson. Sjón would occasionally reprise this role for the final encore of Sugarcubes concerts, including the band's one-off 2006 reunion show in Reykjavík.
As a poet Sjón published his first volume of poetry, "Sýnir" ('Visions') in 1978 and has since published numerous books of poetry, prose and even children's novels. His novels have been translated to Italian, Spanish, Dutch, German and French, among twelve other languages, with the English edition of "The Blue Fox" (Skugga-Baldur) scheduled for publishing in March 2008 by Telegram Books.
Sjón is married and has two children. He currently resides in Reykjavík.
Bibliography
* "Visions" ("Sýnir", Poems, 1978)
* "Madonna" ("Madonna", Poems, 1979)
* "Birgitta" ("Birgitta", Poems, 1979)
* "How Does One Make Love to Hands?" ("Hvernig elskar maður hendur?", Poems, 1981)
* "The Blind Man's Bicycle" ("Reiðhjól blinda mannsins", Poems, 1982)
* "The Book of Illusions" ("Sjónhverfingabókin", Poems, 1983)
* "Oh, Isn't it Wild?" ("Oh, Isn't it Wild?", Poems, 1985)
* "Toy Castles ..." ("Leikfangakastalar", Poems, 1986)
* "The Boy with the X-Ray Eyes", poems from 1978-1986 ("Drengurinn með röntgenaugun", Poems, 1986)
* "Night of Steel" ("Stálnótt", Novel, 1987)
* "Angel, Stovehat and Strawberries" ("Engill, pípuhattur og jarðarber", Novel, 1989)
* "there is something I can't remember about the clouds" ("Ég man ekki eitthvað um skýin", Poems, 1991)
* "Made in Secret (a.k.a. Your Eyes Saw Me)" ("Augu þín sáu mig", Novel, 1994)
* "obscure figures" ("myrkar fígúrur", Poems, 1998)
* "With a Quivering Tear" ("Með titrandi tár", Novel, 2001)
* "The Blue Fox" ("Skugga-Baldur", Novel, 2003)
* "The Whispering Muse (a.k.a. The Splinter from Argo)" ("Argóarflísin", Novel, 2005)
* "the song of the stone collector" ("söngur steinasafnarans", Poems, 2007)
* "Collected Poems 1978-2008" ("Ljóðasafn", Poems, 2008)
Works in translation
NOVELS
"Argóarflísin" (The Whispering Muse)
* Finnish: Argon lastu - Like 2008
* Swedish: Fisk och kultur - Alfabeta 2007
* Norwegian: Flisen fra Argo - Tiden 2007
* Danish: Splinten fra Argo – Athene 2006
Forthcoming in Faroese and Dutch.
"Skugga-Baldur" (The Blue Fox)
* English: The Blue Fox - Telegram Books 2008
* Spanish: El zorro ártico - Nórdica Libros 2008
* Czech: Syn stínu - Argo 2008
* French: Le Moindre Des Mondes - Rivage 2007
* German: Schattenfuchs - S. Fischer 2007
* Italian: La volpe azzurra. Una leggenda islandese. - Mondadori 2006
* Dutch: Blauwvos - Uitgeverij De Geus 2006
* Faroese: Skugga-Baldur - Nýlendi 2006
* Danish: Skygge-Baldur - Athene 2005
* Finnish: Skugga-Baldur - Like 2005
* Norwegian: Skugga-Baldur - Tiden 2005
* Swedish: Skugga-Baldur - Alfabeta 2005
* Serbian: Pticje mleko - Geopoetika 2005Forthcoming in Galician, Turkish, Lithuanian.
"Með titrandi tár" (With A Quivering Tear)
* French: Sur la paupière de mon père - Rivages 2008
* Swedish: Med skälvande tårar - Alfabeta 2004
"Augu þín sáu mig" (Made in Secret)
* Danish: Dine øjne så mig - Vindrose 2002
* Finnish: Sinun silmäsi näkivät minut (rakkaustarina) - Like 2004
* Lithuanian: Tavo akys matė mane - Apostrofa 2005
* Norwegian: Dine øyne så meg: en kjærlighetshistorie – Tiden 2001
* Spanish: Tus ojos me vieron: Historia de amor - Ediciones Siruela 2005
* Swedish: Dina ögon såg mig: en kärlekssaga - Anamma 1997
* Romanian: Ochii tăi m-au văzut - Niculescu 2008
POETRY
* English: Night of the Lemon - Greyhound Press 1993
* French: figures obscures - Cahiers de Nuit 2000
* German: Gesang des Steinesammlers - Kleinheinrich 2007
* Macedonian: Anatomija na gladniot - SPV 2007
Prizes
Literary Prizes
* The Icelandic Bookseller's Prize for the Novel of the Year, 2005, for "Argóarflísin".
* The Nordic Council's Literature Prize, 2005, for "Skugga-Baldur".
* The DV Newspaper Culture Prize / Literature, 2002, for "Með titrandi tár".
* The Icelandic Broadcasting Service Writers Fund, 1998, for contribution to Icelandic literature.
* The DV Newspaper Culture Prize / Literature, 1995, for "Augu þín sáu mig".
Other Prizes
* "Skuggaleikur" (Shadow Play), an opera by Karólína Eiríksdóttir with libretto by Sjón, based on the short story Skyggen (the Shadow) by H. C. Andersen, is nominated for the Nordic Council Music Prize, 2008
* Nominated for an Academy Award in the category Best Original Song for the song "I've Seen It All" from the film Dancer in the Dark, 2000
* Nominated for a Golden Globe Award for the song "I've Seen It All" from the film "Dancer in the Dark", 2001
External links
* [http://www.bokmenntir.is/rithofundur.asp?cat_id=598&author_id=82&lang=8 Sjón's biography at the Reykjavík City Library web]
* [http://www.norden.org/nr/pris/lit_pris/2005/uk/sjon-biografi.asp Sjón's biography at the Nordic Council's webpage]
* [http://entertainment.timesonline.co.uk/tol/arts_and_entertainment/books/fiction/article4826995.ece A.S. Byatt reviews the Blue Fox/Skugga-Baldur in the Times]
* [http://de.wikipedia.org/wiki/Schattenfuchs A page about Skugga-Baldur/Schattenfuchs on the German Wikipedia.]
* [http://www.visir-online.dk/fisk-og-myter-i-frit-fald/ Review of Argóarflísin (in danish)]
* [http://bjartur.is/ Bjartur, Sjón's Icelandic publisher]
Источник: Sjón
Другие книги схожей тематики:
| Автор | Книга | Описание | Год | Цена | Тип книги |
| --- | --- | --- | --- | --- | --- |
Look at other dictionaries: