Book:
Carlos Fuentes «Todas las familias felices»
Un hombre es humillado por su patron; su hijo quisiera humillarlo mas. El hijo del Presidente se rebela contra su padre, pero depende de su protection. Una mujer, por amor, sufre el sadismo de su marido. Un comandante debe escoger cual de sus dos hijos morira. Un cura esconde a su hija en una aldea. Todas las familias kikes es la polifonia narrativa de los ramales conflictivos del Mexico contemporaneo y, por extension, del mundo. Формат издания: 12, 5 см х 19 см.

Издательство: "Punto De Lectura" (2007)

ISBN: 978-84-663-1801-3

Купить за 1689 руб на Озоне
Carlos Fuentes
Infobox Writer
name = Carlos Fuentes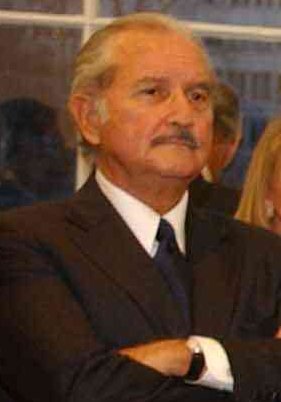 imagesize = 200px
caption =
pseudonym =
birthname =
birthdate = birth date and age|1928|3|11|df=y
birthplace = Panama City
deathdate =
deathplace =
occupation = novelist, writer
nationality = Mexican
period = 1954 –
genre =
subject =
movement =Magic Realism
notableworks = The Death of Artemio Cruz (1962)
The Old Gringo (1985)
spouse = Rita Macedo (1959–1973)
Silvia Lemus (1976–)
partner =
children = Cecilia Fuentes Macedo (1962), Carlos Fuentes Lemus (1973-1999), Natasha Fuentes Lemus (1976-2005)
relatives =
influences =
influenced =


website = http://www.clubcultura.com/clubliteratura/clubescritores/carlosfuentes/index.htm
Carlos Fuentes Macías (born March 11,1928) is a Mexican writer and one of the best-known living novelists and essayists in the Spanish-speaking world. Fuentes has influenced contemporary Latin American literature, and his works have been widely translated into English and other languages.
Biography
Fuentes was born in Panama City,Panama; his parents were Mexican. In his childhood, he lived in Montevideo, Rio de Janeiro, Washington, Santiago and Buenos Aires. In his adolescence, he returned to Mexico, where he lived until 1965. He was married to film star Rita Macedo from 1959 till 1973, although he was an habitual philanderer and allegedly, his affairs -- which he has claimed include film actresses such as Jeanne Moreau and Jean Seberg- brought her to despair. The couple ended their relationship amid scandal when Fuentes eloped with a very pregnant and then-unknown journalist named Silvia Lemus. They were eventually married. Following in the footsteps of his parents, he also became a diplomat in 1965 and served in London, Paris (as ambassador), and other capitals. In 1978 he resigned as ambassador to France in protest over the appointment of Gustavo Diaz Ordaz, former president of Mexico, as ambassador to Spain. He has also taught courses at Brown, Princeton, Harvard, Penn, George Mason, Columbia and Cambridge. He is currently teaching at Brown University. He was also a friend tothe US American Sociologist C. Wright Mills, to whom he dedicated his book The Death of Artemio Cruz.
He fathered three children. Only one survives: Cecilia Fuentes Macedo, born in 1962, now working with TV production. A son, Carlos Fuentes Lemus, died from complications associated with hemophilia in 1999 at the age of 25. A daughter, Natasha Fuentes Lemus (born 31 August 1974), died of undisclosed causes in Mexico City 22 August 2005, at the age of 30.
Works
Fuentes published his first novel, "La región mas transparente", at 28 years old, which became a classic contemporary novel. It was innovative not only for its prose, but also by having a metropolis, Mexico City as its main character. This novel provides an insight into the Mexican culture, which is made up of a mixture with the Spanish, the indigenous and the "mestizo": all cohabiting in the same geographical area but with different cultures.
The Mexican author describes himself as a premodern writer, using only pens, ink and paper. He asks "Do words need anything else?" Fuentes mentioned that he detests those authors who from the beginning claim to have a recipe for success. In a speech on his writing process he mentioned that when he starts the writing process he begins by asking "Who am I writing for? " [ [http://www.jornada.unam.mx/ultimas/2007/11/13/201csospecha201d-carlos-fuentes-de-los-escritores-con-exito-garantizado/?searchterm=None Article in the Jornada (13-11-07) (Spanish)] ]
He published "Las Buenas Conciencias" in 1959 which is probably his most accessible novel depicting the privileged middle classes of a medium sized town, probably modelled on Guanajuato.
His 1960s novels, "Aura" (1962) and "La muerte de Artemio Cruz" (1962) are well acclaimed for using experimental modern narrative styles (including the second person form) to discuss history, society and identity.
In 1967, during a meeting with Alejo Carpentier, Julio Cortazar and Miguel Otero Silva, Carlos Fuentes launched the project of a series of biographies depicting Latin American "caudillos", which would be called "Los Padres de la Patria". [ [http://descargas.cervantesvirtual.com/servlet/SirveObras/68005029323577729754491/006761_4.pdf De los orígenes a la nueva novela histórica paraguaya] p.43 es icon] Although the project was never completed, it set the bases for Alejo Carpentier's "Reasons of State" ("El recurso del método", 1974) and various other Dictator Novels ("novela del dictador").
His 1985 novel "Gringo viejo", the first pie American bestseller written by a Mexican author, was filmed as "Old Gringo" (1989) starring Gregory Peck and Jane Fonda.
In 1994, he published "Diana, The Goddess Who Hunts Alone," a fictionalized account of his alleged affair with American actress Jean Seberg. However, authenticity of this adulterous liaison has been brought up to question several times.
Fuentes regularly contributes essays on politics and culture to the Spanish newspaper "El País" and "Reforma". He is a stern critic of what he sees as American cultural and economic situations typically hidden from mainstream Mexican society.
List of Works
Novels
* Las Buenas Conciencias (1959)
* "La región más transparente" (1959)
* "The Death of Artemio Cruz" (1962)
* "Aura" (1962)
* "Zona sagrada", (1967)
* "Cambio de piel" (1967)
* "Cumpleaños" (1969)
* "Diana o la cazadora solitaria" (1972)
* "Terra Nostra" (1975)
* "La cabeza de la hidra" (1978)
* "Una familia lejana" (1980)
* "Agua quemada" (1981)
* "Orquídeas a la luz de la luna" (1982)
* "Gringo viejo" ("The Old Gringo") (1985)
* "Cristóbal Nonato" ("Christopher Unborn") (1987)
* "Ceremonias del alba" (1991)
* "El naranjo" (1993)
* "La frontera de cristal" (1995)
* "A New Time for Mexico" (1996) ISBN 0-374-22170-7 (translated from Spanish by Marina Gutman Castaneda)
* "Los años con Laura Díaz" (1999)
* "Todas las Familias Felices" (2006), ISBN 987-04-0557-6
hort Stories
* "Los días enmascarados" (1954)
* "Cantar de ciegos" (1964)
* "Chac Mool y otros cuentos" (1973)
*"Agua quemada" (1983) ISBN 968-16-1577-8
* "Dos educaciones". (1991) ISBN 84-397-1728-8
* "Los hijos del conquistador" (1994)
* "La frontera de cristal. Una novela en nueve cuentos" (1995) ISBN 968-19-0268-8
* "Inquieta compañía" (2004)
* "Las Dos Elenas"
Essays
* "La nueva novela hispanoamericana" (1969)
* "El mundo de José Luis Cuevas" (1969)
* "Casa con dos puertas" (1970)
* "Tiempo mexicano" (1971)
* "Miguel de Cervantes o la crítica de la lectura" (1976)
* "El Espejo Enterrado" (1992)
* "Geografía de la novela" (1993)
* "Tres discursos para dos aldeas" ISBN 950-557-195-X
* "Nuevo tiempo mexicano" (1995)
* "Retratos en el tiempo", with Carlos Fuentes Lemus (2000)
* "Los cinco soles de México: memoria de un milenio" (2000) ISBN 84-322-1063-3
* "En esto creo" (2002)
* "Contra Bush" (2004)
* "Los 68" (2005)
Theater
* "Todos los gatos son pardos" (1970)
* "El tuerto es rey" (1970).
* "Los reinos originarios" (1971)
* "Orquídeas a la luz de la luna. Comedia mexicana." (1982)
* "Ceremonias del alba" (1990)
Further reading
"English"
* Lifting the obsidian mask : the artistic vision of Carlos Fuentes / Lanin A Gyurko., 2007
* Carlos Fuentes' The death of Artemio Cruz (Modern Critical Interpretations) / Harold Bloom., 2006
* Fuentes, Terra nostra, and the reconfiguration of Latin American culture / Michael Abeyta., 2006
* Carlos Fuentes's Terra nostra and the Kabbalah: the recreation of the Hispanic world / Sheldon Penn., 2003
* The narrative of Carlos Fuentes : family, text, nation / Steven Boldy., 2002
* Carlos Fuentes, Mexico and modernity / Van Delden, Maarten., 1998
* The postmodern Fuentes / Helmuth, Chalene., 1997
* Specular narratives : critical perspectives on Carlos Fuentes, Juan Goytisolo, Mario Vargas Llosa / Roy Boland., 1997
* The writings of Carlos Fuentes / Williams, Raymond L., 1996
* A Marxist reading of Fuentes, Vargas Llosa, and Puig / Durán, Víctor M., 1994
* Author, text, and reader in the novels of Carlos Fuentes / Ibsen, Kristine., 1993
* Carlos Fuentes : life, work, and criticism / González, Alfonso., 1987
* Carlos Fuentes / Faris, Wendy B., 1983
* Carlos Fuentes, a critical view / Brody, Robert., 1982
* The archetypes of Carlos Fuentes: from witch to androgyne / Durán, Gloria., 1980
* Carlos Fuentes (Twayne World Authors Series) / Guzmán, Daniel de., 1972
"Spanish"
* El mito en la obra narrativa de Carlos Fuentes / Francisco Javier Ordiz., 2005
* Los signos del laberinto : Terra nostra de Carlos Fuentes / Carmen V Vidaurre Arenas., 2004
* Países de la memoria y el deseo : Jorge Luis Borges y Carlos Fuentes / Carmen Perilli., 2004
* Carlos Fuentes : perspectivas críticas / Edith Negrín., 2002
* Carlos Fuentes desde la crítica / Georgina García-Gutiérrez., 2001
* El lenguaje que somos : Carlos Fuentes y el pensamiento de lo hispanoamericano / Estela Marta Saint-André., 2001
* Los escritos de Carlos Fuentes / Raymond L Williams., 1998
* Carlos Fuentes : 40 años de escritor / José Francisco Conde., 1993
* Interpretaciones a la obra de Carlos Fuentes / Ana Maria Hernández de López., 1990
* Fabulación de la fe : Carlos Fuentes / Fernando García Núñez., 1989
* La obra de Carlos Fuentes : una visión múltiple / Ana María Hernández de López., 1988
* Lo fantástico en los relatos de Carlos Fuentes : aproximación teórica / Gladys Feijoo., 1985
* El cuento mexicano contemporáneo : Rulfo, Arreola y Fuentes / Bertie Acker., 1984
* La narrativa de Carlos Fuentes / Aida Elsa Ramírez Mattei., 1983
* Los disfraces : la obra mestiza de Carlos Fuentes / Georgina García-Gutiérrez., 1981
* Nostalgia del futuro en la obra de Carlos Fuentes / Liliana Befumo Boschi., 1974
* Aproximación a la literatura del mexicano Carlos Fuentes / Luján Carranza., 1974
* Carlos Fuentes y la realidad de México / Fidel Ortega Martínez., 1969
* Constancia: Y Otras Novelas Para Virgenes, 1990
References
External links
*
* [http://www.threemonkeysonline.com/article_carlos_fuentes_eagles_throne.htm Making Love in Spanish - Carlos Fuentes and The Eagle's Throne]
* [http://www.signandsight.com/features/361.html "In praise of the novel"] Carlos Fuentes' opening speech at the Fifth International Literature Festival Berlin at signandsight.com.
* [http://literature.sdsu.edu/nericcio/Spring1990/cover.html 'Sick Culture'] Review essay that includes a piece on Fuentes's "Myself With Others" by William A. Nericcio, a Latin Americanist cultural studies professor at SDSU.
* [http://www.achievement.org/autodoc/page/fue0int-1 Video interview with Carlos Fuentes]
Persondata
NAME = Fuentes, Carlos
ALTERNATIVE NAMES = Fuentes Macía, Carlos
SHORT DESCRIPTION = 20th century Mexican writer
DATE OF BIRTH = November 11, 1928
PLACE OF BIRTH = Panama City, Panama
DATE OF DEATH =
PLACE OF DEATH =
Источник: Carlos Fuentes
Другие книги схожей тематики:
| Автор | Книга | Описание | Год | Цена | Тип книги |
| --- | --- | --- | --- | --- | --- |
Look at other dictionaries: