Book:
Amelie Nothomb «Les combustibles»
Серия: "Littérature&Documents"

Am 233;lie Nothomb Les Combustibles La ville est assi 233;g 233;e. Dans l'appartement du Professeur, o 249; se sont r 233;fugi 233;s son assistant et Marina, l' 233;tudiante, un seul combustible permet de lutter contre le froid: les livres... Tout le monde a r 233;pondu une fois dans sa vie 224; la question: quel livre emporteriez-vous sur une 238;le d 233;serte? Dans ce huis clos cern 233; par les bombes et les tirs des snipers, l' 233;tincelante romanci 232;re du Sabotage amoureux pose 224; ses personnages une question autrement perverse: quel livre, quelle phrase de quel livre vaut qu'on lui sacrifie un instant, un seul instant de chaleur physique oe Humour, ironie et d 233;sespoir s'entretissent subtilement dans cette parabole aux r 233;sonances singuli 232;rement actuelles. Et Am 233;lie Nothomb de jouer avec la litt 233;rature comme elle jouerait avec le feu, d'incendier avec un malin plaisir ce qu'elle aime le plus au monde, les livres. Un nouvel assassinat de sang-froid superbement ma 238;tris 233;. Marianne Payot, Lire.

Издательство: "Livre de Poche" (2002)

ISBN: 978-2-253-13946-1

Купить за 477 руб в My-shop
Amélie Nothomb
Infobox Writer
name = Amélie Nothomb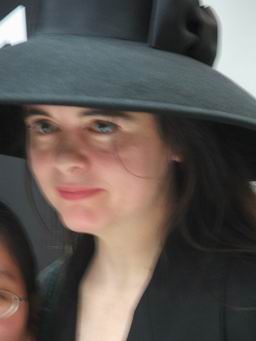 imagesize = 150px
pseudonym =
birthname =
birthdate = birth date and age|1967|8|13
birthplace = Kobe, Japan
deathdate =
deathplace =
occupation = writer
nationality = Belgian
notableworks = Stupeur et tremblements
Amélie Nothomb (born August 13, 1967) is a Belgian writer who writes in French.
Biography
She was born in Kobe, Japan to Belgian diplomats. She lived there until she was five years old, and then subsequently lived in China, New York, Bangladesh, Burma, a stint in Coventry and Laos.
She is from a distinguished Belgian political family; she is notably the grand-niece of Charles-Ferdinand Nothomb, a Belgian foreign minister (1980-1981). Her first novel, "Hygiène de l'assassin," was published in 1992. Since then, she has published approximately one novel per year with a.o. "Les Catilinaires" (1995), "Fear and Trembling" (1999) and "Métaphysique des tubes" (published in English as "The Character of Rain") (2000).
She has been awarded numerous prizes, including the 1999 Grand Prix du roman de l'Académie française; the Prix René-Fallet; and twice the Prix Alain-Fournier.
While in Japan, she attended a local school and learned Japanese. When she was five the family moved to China. "« Quitter le Japon fut pour moi un arrachement »" ("Leaving Japan was a wrenching separation for me") she writes in "Fear and Trembling". Nothomb moved often, and did not live in Europe until she was 17, when she moved to Brussels. There, she reportedly felt as much a stranger as everywhere else. She studied philology at the Université Libre de Bruxelles. After some family tensions, she returned to Japan to work in a big Japanese company in Tokyo. Her experience of this time is told in "Fear and Trembling". She has written a romanticized biography ("The Book of Proper Names") for the French female singer RoBERT in 2002 and during the period 2000-2002 she wrote the lyrics for nine tracks of the same artist. Many ideas inserted in her books come from the conversations she had with an Italian man, from late eighties and during the nineties. She used the French Minitel, while he used the Italian Videotel system, connected with the French one. They never met personally.
Bibliography
Unless otherwise stated, all works were originally published in French by Éditions Albin Michel.
External links
* [http://book.literaryawards.info/en/amelie_nothomb.html Amélie Nothomb commented bibliography]
* [http://www.albin-michel.fr/pages/news/recherche/resultat_fiche.php?code_article=88940&page=auteur Official site] at Éditions Albin Michel
* [http://www.antechrista.info/ Antéchrista] , unofficial site
* [http://www.biblioweb.org/-NOTHOMB-Amelie Amélie Nothomb] on Biblioweb
* [http://www.lire.fr/critique.asp/idC=49029/idR=218/idG=3 Criticisms of "Human Rites"] on Lire.fr
* [http://amelienothomb.cultureforum.net/ AMELIE NOTHOMB, Un plume, Un univers...] (=Amélie Nothomb, A style of writing, A world...) : a French forum, very complete, and well-documented about the author, her work, her inspiring influences, current events, etc.
* [http://membres.lycos.fr/fenrir/nothomb.htm Fan site]
* [http://web.tiscali.it/vcoletti/diario_digitale/hygiene.html Reader's comment on l'Hygiène de l'Assassin]
* [http://web.tiscali.it/vcoletti/diario_digitale/tubes.html Reader's comment on Métaphysique des Tubes]
* [http://web.tiscali.it/vcoletti/diario_digitale/combustibles.html Reader's comment on Les Combustibles]
References
Источник: Amélie Nothomb
Другие книги схожей тематики:
| Автор | Книга | Описание | Год | Цена | Тип книги |
| --- | --- | --- | --- | --- | --- |
Look at other dictionaries: